Sciatic Pain
You are probably here reading this now because you are in PAiN! Pain that won't go away and a pain that keeps you from doing what you love and enjoy doing or even just your daily activities like going to work or being with your family. Good news,  you found the right place.  I know personally what it feels like to come home to kids that want you to play with them after you have been at work all day, but you have to tell them, "I can't, my back hurts." Fortunately, that doesn't have to be the way!
Where is the pain coming from?
Before we get into how to quickly fix your sciatic pain, it's extremely important that we find out what is causing it. We treat hundreds of patients every week in our Palm Coast and Edgewater / New Smyrna Beach offices that suffer from sciatic pain so our team of doctors, nurse practitioners, and chiropractors now exactly where to look. Many of our patients are looking for a local doctor that treats sciatica or back pain and are very pleased when they find us. There are three main areas where we find the sciatic nerve pinched that causes sciatic pain. Where the nerve is pinched determines what type of treatment a patient will best respond to.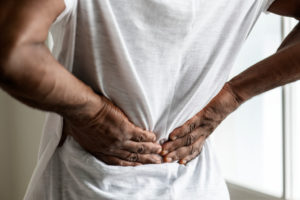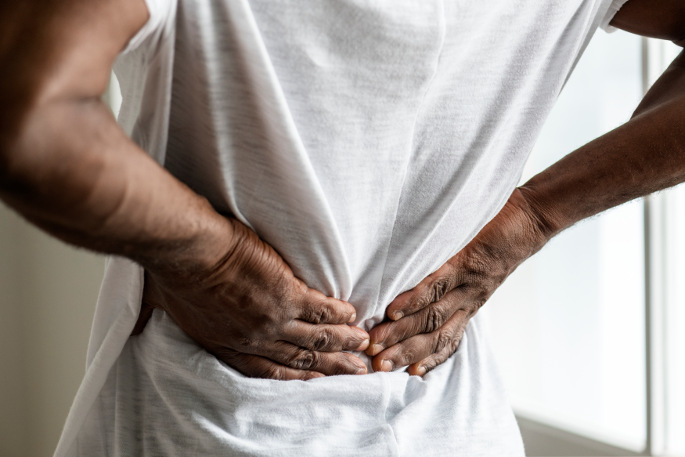 3 Nerve Pinch Areas
The sciatic nerve can be pinched in the lower back area in the spine. If the nerve is pinched in this area it could be because the patient has a herniated disc from a car accident or other disc injury that is pushing on the nerve. We see many patients in our communities of Flagler and Volusia County that have arthritis and degenerative disc disease. These spinal conditions can also cause pain down the leg if they are pinching the nerve. One of the best treatments for this is regenerative medicine using stem cells. Many of our patients in Palm Coast and Edgewater love to golf and this repeated twisting motion can cause the pelvis to be twisted and pinch the nerve as well. If the pelvis is twisted and out of alignment the patient may need chiropractic care and physical therapy to fix the problem. The other area the sciatic nerve is commonly pinched is the piriformis muscle in the hip area. This can occur when you sit for prolonged periods of time while working an office job or while studying in school. Possible treatment options for this include trigger point injections, physical therapy, and chiropractic.
Before you treat Sciatica you must know what is causing the pain

There are three common areas the sciatic nerve can be pinched

Depending on the cause of the problem the treatment will vary

Treatments may include regenerative medicine using stem cells, spinal decompression, physical therapy, chiropractic, and injections
If you would like to find out what is causing your pain and come up with a plan together to make you feel better, call us right away. We reserve emergency appointments for patients that are in intense pain to get in quickly and start feeling better immediately.
Edgewater Office
315 N Ridgewood Ave

Edgewater FL 32132
Palm Coast Office
145 Cypress Point Pkwy suite 208,
Palm Coast, FL 32164